Short interview to Kevin and the reasons why switching to Blender for Sculpting his move.
Hello! My name is Kevin Christian Muljadi, and I live in Indonesia. I work as a concept artist for character design and 3D character sculpting at UMN Pictures animation studio. I've worked here for about two years now. I started learning digital sculpting at university in 2015. It was only for one semester; after that, I never practiced digital sculpting again until I had my full-time job in 2018. 
From 2018 until early February 2020, I had used ZBrush to sculpt. I switched to Blender as my primary software in March 2020 because my friend at work told me that Blender could be used as a sculpting tool, has 3D features like on Autodesk Maya, and it's completely free! So I tried hard to learn about Blender software for sculpting, lighting composition, and rendering in March 2020. I learned Blender from youtube channels like Yansculpts, Julien Kaspar, Blender Guru, Flippednormals, and I watched random youtube tutorials in real life so I can understand how the lighting works.
Another reason why I used Blender as my sculpting tool is because I think Dyntopo works faster in my workflow, but the downside is the topology looks like a tris-poly. Zbrush has the advantages too for example zremesher is the best auto topology so far and dynamesh works faster compared to Blender's remesher. Another thing is because I love Blender UI because it looks modern and has a better viewport. With Blender, I also can do so many things like I can do a simple poly modelling faster and the render engine is better compared to Zbrush.
But still, I don't think Blender is the best sculpting tool because Zbrush is still way superior because it was designed as a sculpting tool and it can handle millions of poly more compared to Blender while sculpting.
My next step is I want to learn more with 3D modelling in Blender like retopology the character, making the environment with the character and I want to improve my quality works on sculpting/modelling soon.
---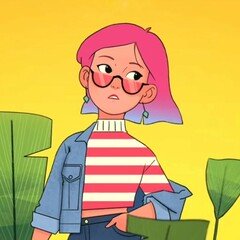 Links to Kevin Christian Muljadi
---
Note from the editors: The article was written before Blender 2.90 came out with multiresolution. It is now possible to select the subdivision level to sculpt on and switch between levels, with displacement information smoothly propagated between them.
For more information about sculpting with Blender 2.90 read the official Manual