TOAnimate offers a comprehensive Blender Animation Course for artists looking to become proficient in animation. The course covers the principles of animation, technical and artistic skills and helps students become industry-ready. Unlike other courses, TOAnimate's approach equates students with the knowledge and skills to become true animators. The course includes over 70 comprehensive video lessons, assignments and exercises, feature-quality character rigs, beginner animation rigs, CG sets, exclusive sound bites, and access to the TOAnimate Circle community. With Blender being a growing and improving software, studios are now shifting their production pipelines from Maya to Blender, making it the perfect time to learn Blender skills. TOAnimate's team includes experienced Blender Animators who have worked on high-end productions. Enrol now and use the promo code TOANIMATE60 to receive a $60 discount on the Comprehensive Blender Animation Course during the week-long promotion from March 17th to March 24th.
How TOAnimate came to be:
Brian: I got interested in animation in the later years of high school and ended up going to a well-known university in Toronto for their animation program. Unfortunately, I ended up with a bachelor and no practical skills to show for it. I was devastated at the waste of time and the amount of debt I had accumulated while attending this University. I lost faith in the institutional education system at that point. As a last-ditch effort, I applied to one of Canada's top two animation schools (Sheridan College) and managed to get into their post-graduate program. This is where I finally began actually learning practical skills I could use in the industry. My entire time in Sheridan, I kept thinking to myself: "If only I knew what I'm learning now back when I first started", and so the idea for my YouTube channel (3D Animation Hub) began. After Sheridan, I managed to get my foot into the industry, working on Paw Patrol. It was during this period that I began uploading tutorials, teaching animation and talking about my experience working in the industry.
Fast forward several years, while working on a high-budget Blender show (Maya and the Three), I realized how powerful Blender really was but how few quality resources there were teaching how to animate in the program. At the end of that production, two other animators (Simona Baranovicova and Vladimir Mokhov) and I began working on TOAnimate, combining all of our schooling and industry experience to create a condensed and laser-focused curriculum to help future animation students create a strong animation foundation at a fraction of the time and money we had to invest. After nearly three years in the making, we're finally ready to launch our comprehensive Blender animation course!
Who is this Blender Animation Course for?
The perfect package for artists looking to delve into the world of animation and become proficient in Blender.
This comprehensive Blender Animation Course covers the principles of animation, improves your technical and artistic skills and helps you become industry ready.
Our approach to teaching animation in Blender
Most courses have you following along, only to end up with a carbon copy of the instructor's work. We believe in going beyond the surface level and equipping our students with the knowledge and skills they need to become true animators.
Our course is designed to give students a solid foundation in animation principles, so they can confidently create their own unique shots in any style or setting. Don't just learn to copy; learn to create with TOAnimate.
Why teach in Blender?
That's easy! Besides being free to use, Blender is growing and improving incredibly fast, thanks to a pool of dedicated developers. And studios are noticing! In fact, many animation companies are now shifting their production pipelines from Maya to Blender. There's never been a better time to take the leap and gain those Blender skills. The sooner you do it, the better – studios still struggle to find qualified Blender animators who don't require weeks of expensive training.
Having professional knowledge of the software is a sure way for you to stand out and impress your potential employers!
Learn from experienced Blender Animators (About us)
Our entire team has extensive industry experience working on high-end productions in Maya and Blender. We learned everything we know about Blender through sweat and tears while animating on the Annie award-winning show Maya and the Three (check it out on Netflix).
It cost us hundreds of hours because we didn't have the structured resources needed to learn efficiently. We created TOAnimate to give you a much better learning experience, with easy-to-follow resources and assets to make it fun!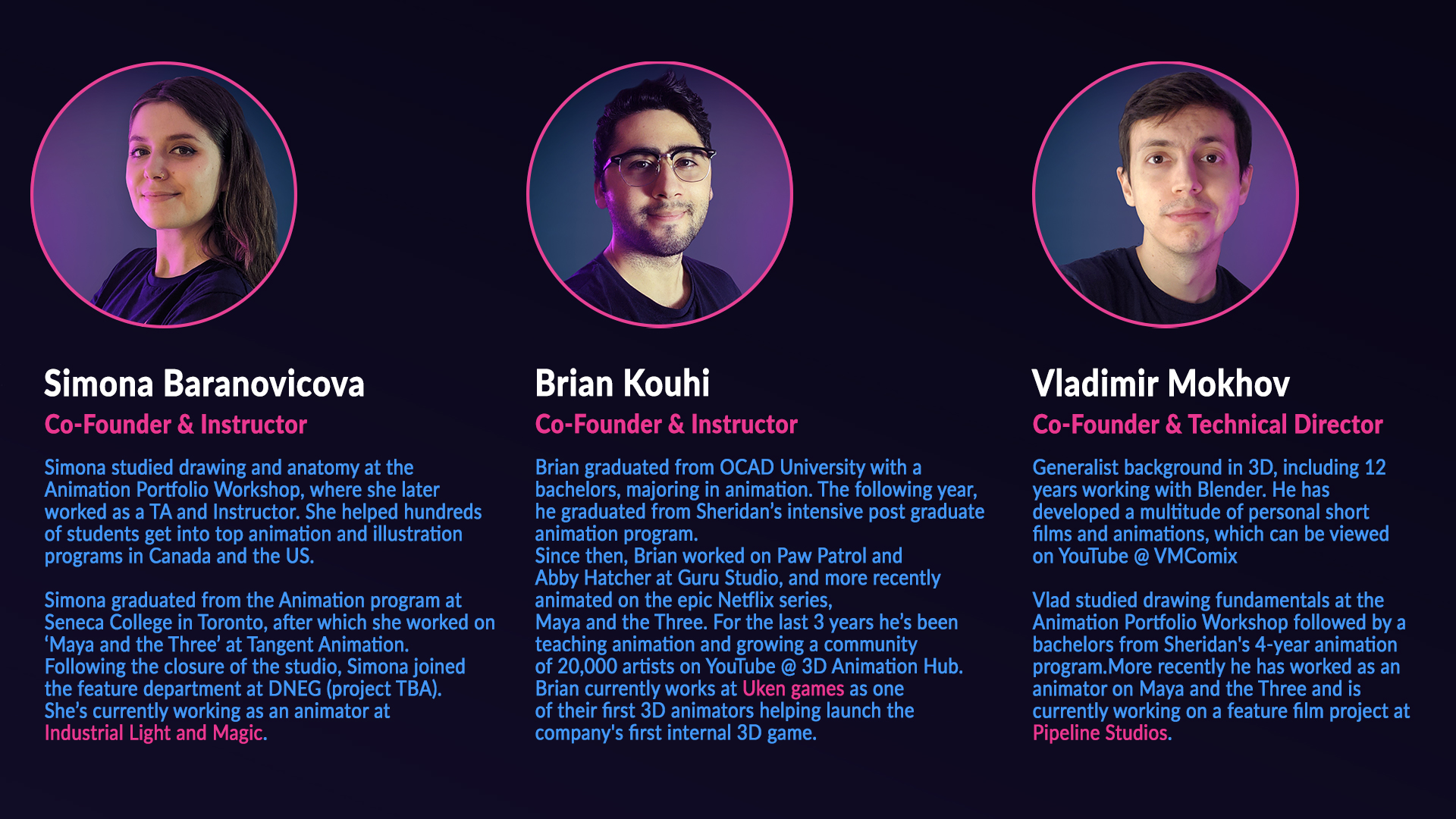 What's included in the course?
Everything included in our Blender Basics course (teaching you how to use Blender) 70+ Comprehensive video lessons (total of 100+ video lessons)
15+ Assignments and exercises 2+ feature-quality character rigs
A multitude of beginner animation rigs
2 CG sets (pre-lit and rigged for animation) 100+ Exclusive sound bites (dialogue) Detailed PDF handbooks of each lesson (Lifetime) access to new assets and lessons
(Lifetime) access to the TOAnimate Circle community Technical support for Blender
Animation picker & pre-made character templates
Different Pricings and course information: https://www.toanimate.ca/animationcourses Animation Course enrollment page: https://toanimate.teachable.com/p/animation-course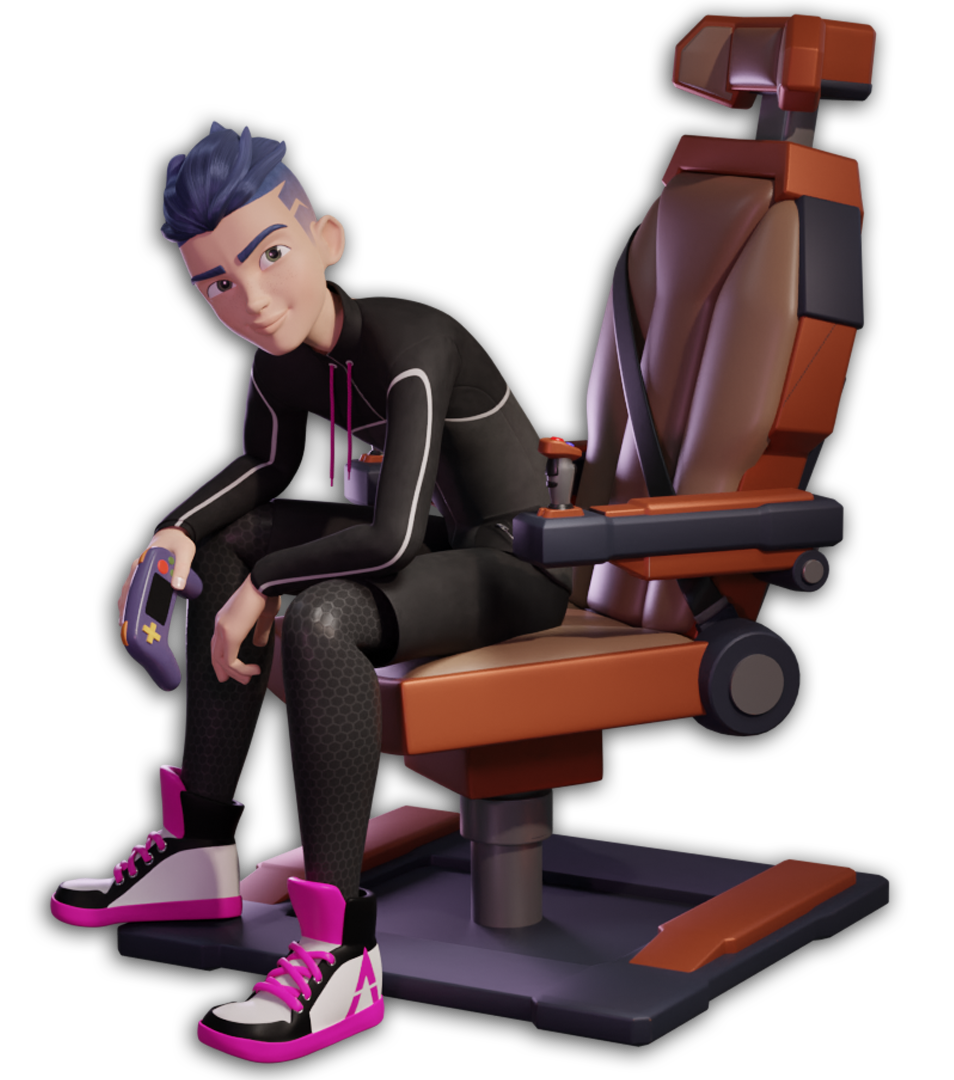 ---