Recently we discover an interesting Blender tutorial on Youtube by Crossmind, an Animation and Motion design studio, based out of New Delhi, India. Apart from producing creative work, they like to connect with fellow animation design enthusiasts to talk, share, and add to the fantastic creative pool of ideas that brings out the best in us.
They have worked for important brands like Microsoft, Samsung, FOX International, National Geographic, SONY Entertainment, Ogilvy, POGO, etc.
Apart from the commercial part, a year ago, they have started a series of free courses for Blender on Youtube. We found them very well made and clear. They have an approach hands-on starting from the very basis until the end of a project.
Here you can find the playlist of this Blender tutorial series about 'introduction to Blender'.
Blender Tutorial, Introduction to Blender – For Absolute Beginners
Also, this series is in preparation for their next upcoming series, which is about 3d content creation. Once you are done with this series and have practised a bit of Blender 3D, then you can go and look into this one, as they talk about topics such as 3d layout, Lighting, Hair, particles, dealing with dynamics, simulation, fluid, smoke, etc.
The content of this Blender tutorial is pretty simple in itself. None of the models is complicated. The focus here is to get comfortable in 3D for the first time.
They have divided the Blender 3D tutorial into 7 days. You won't become a Blender guru in 7 days but you will get a strong foundation to build on your skills as 3d artist.
Day 1 – Absolute Basics – Blender introduction tutorial
On the first day, in this Blender tutorial, we will discuss the absolute Blender basics, and work our way around the software interface, getting comfortable with Blender interface, creating basic objects, transformation tools, what is 3d cursor, origin, local and global axis, snapping options, etc. and make a very simple scene with just the basic primitives so that you get used to using important commands and develop some muscle memory with Blender.
Day 2 – Object Editing
On the second day, we will learn how to edit mesh objects, and selection methods and we will create a few very basic objects and try to understand how to bring out different shapes in object editing mode.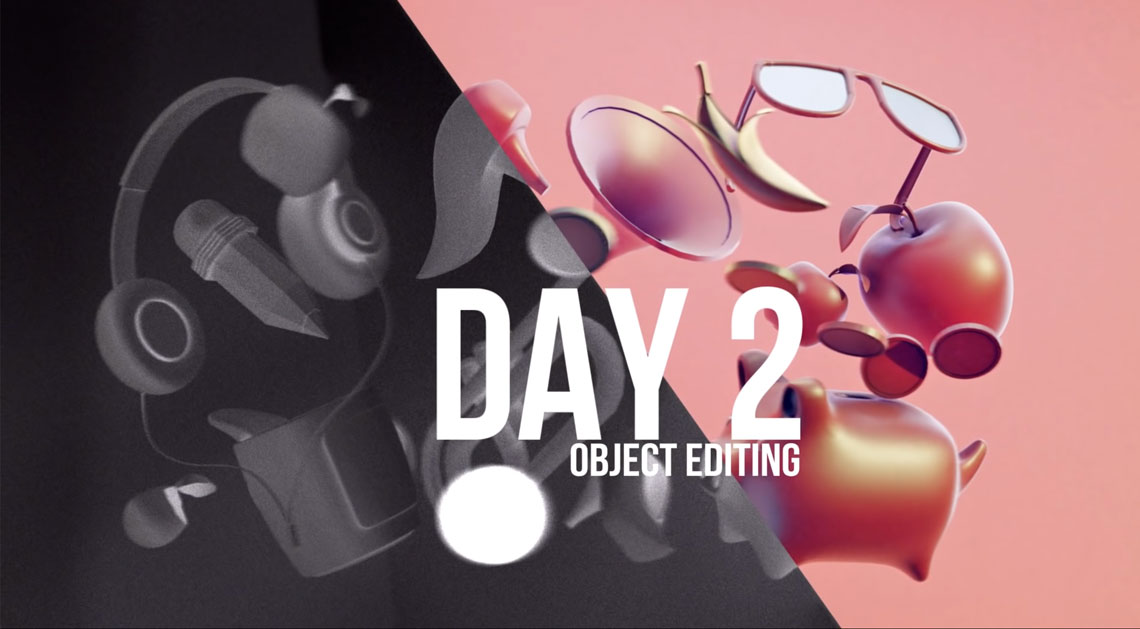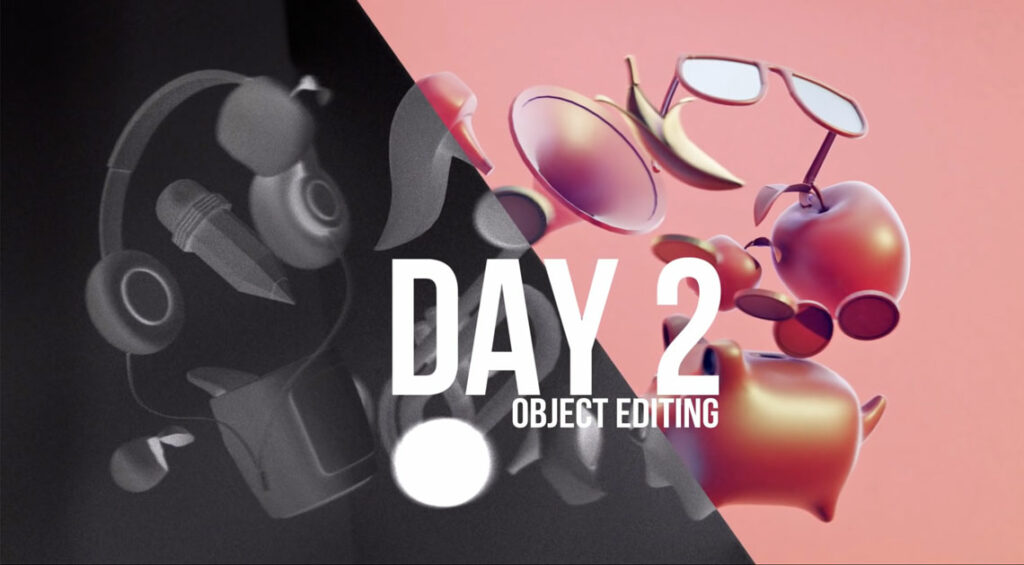 Day 2 – Object Editing tutorial
Day 3 – Modifiers
The third chapter will be about modifiers, What are modifiers and vertex weights, and their use and discuss different use case scenarios. It also will create a few objects in combination with multiple modifiers.
Day 4 – Shaders, Textures & UV
On the Fourth Day, we will discuss the materials. How do the basic materials work and the meaning of terms used in shaders, How to mix shaders, set up basic PBR shaders, textures, etc.? We will also talk about UV a bit and will shade all the models we created in modifier chapters.
Day 5 – Lighting
Blender tutorial on the basics on how to light a scene in Blender
It's about basic tools of lighting, what are the different categories of lights, and how they work, such as HDR Lighting, Making Lamp Objects, Emission Shaders etc. We will also discuss and make a few light setups with different sources and render them out.
Day 6 – Blender Tutorial – Modelling an Aircraft
This is where everything will start making sense as we make a really fun looking animated aircraft model which will also be part of an animated scene. In this chapter, we will work with blueprints and make a 3d model, solve all the basics modelling related problems on a beginner level, and use all the tools of object editing in a practical context. Then we will set up the final asset and shade it for a still render with Eevee.
Day 7 – final Blender tutorial: Animating an Aircraft
The last chapter will be all about animation. We will begin with how to prepare a model for animation.
Talk about the basic tools of animations in 3D and make a bouncing ball to understand how keyframes work. We will also discuss how to set up keys for different parameters and what are the possibilities of keying parameters available on object and modifier levels. We will also talk about curve editor, f curves, animation f-curve modifiers, and a lot more.
It doesn't have a character because, for first-time users, it could be very overwhelming to introduce the character process. But once you clear out all the fundamentals, you would be in a better position to discuss the character-related aspects for later Blender tutorials.
By the end of this series, you should have enough confidence to take on any 3d related challenge on your own. Basically, this course will build up a solid ground from where you can see things clearly and start your journey ahead and research it.
For now, don't worry about all the details, it will be easy to understand once you dive into it.
---
After this great blender tutorial, we ask some questions to know more about Crossmind studio:
Interview to Crossmind studio
Why do you use Blender in a professional studio?
We really like the simplicity of the workflow blender offers. Not going to deny that it does not have its flaws, but it does not feel right to jump around several packages to get done with simple tasks despite so many years of advancement in the industry. When it comes to Blender I really like how you can begin with a sketch, storyboard in 3D with Grease Pencil which is more accurate for production-ready layouts than a traditional storyboard, Great tools for pre-visualization, Eevee has been my favourite for Pre Viz, and of course, it offers a great range of toolsets to pull off most of the 3D Production work. As we are a small animation studio working with a single-digit multi-talented team of designers, we really like to keep the pipeline and workflow simple as possible and focus more on the design aspect, and this is why we think Blender is an excellent choice for us.
Do you use other software in your studio?
Yes, sometimes there are projects which bring up specific challenges. We keep ourselves open to these challenges, try to adapt to the needs of design, and learn new tools in the process to deliver.
What are the strongest points of Blender for you?
I think the strongest point of Blender is that it's open-source, and it benefits from ideas from all corners of the world.
What's your next big project?
Commercial projects will always be the second favourite, I will give the next big project title to my own short film currently working on. After The Bloop Troop and Far the Days Come its been quite a while I made my short film. We need to channel all the new learnings in the right place.
Why have you decided to make complete free Blender tutorials?
When it comes to beginning your journey into 3d and CGI, most of us have a mental block, and this is because of the question that builds it up. At first glance, it could be overwhelming to understand the concepts of 3d. Questions like – Where should one begin? What is 3D? How is it different from other mediums? How do lighting and colouring work? What is the right order of learning 3D? Should I learn to model for gaming or for films? So keeping all these questions in mind, I have made this series. I made it in the order it would not just introduce the principles of 3D, but also answer your question about most of the essential things one by one, at the pace a beginner would understand.
Knowing the principles and fundamentals can give you a strong common ground from where you will be able to see 3D as a medium and not a software-related specialization.
And this way it would be easier for them to adapt to any other 3D platforms as well.
Also, new users can easily get lost in this process and get demotivated during long hours of learning. That is why I have kept, in this Blender tutorial, assignments on each level which learners will really enjoy and find them rewarding after hours of hard work.
I have several other topics we want to discuss and share on this channel, but creating a common ground was necessary, that is why we decided to make this series where one can begin and also relate to our other courses.
What is your strongest suggestion to those beginners who want to learn Blender?
Learning computer program commands is no more complex than learning a complex video game interface. The difference is the mindset. So, while learning, take it easy. Practice, and finish what you started. Observe things around yourself, study theories, anatomy, light and colours etc. it will change your perspective.
More theory or straight to the practice?
While learning 3D and Blender is a lot in itself, especially if you are new to this whole subject. But reading theories will always give more depth to your thought process. Read theories about how colours, lights, and materials work. Some of it we do discuss in these chapters, but there is no end to it. Software is the tool, but inspiration is the real world, theories can help break it down.
You can also read CrossMind new article "Introduction to Geometry Nodes for Blender 3D for Absolute Beginners". A well-made collection of video tutorials on the latest and anticipated feature, Blender Geometry Nodes.
---
Links
---
Check for more other learning resources on Blender inside our website.