Our Dory realized an interview with Blender Italia, the Italian community of professionals and artists who have chosen to use Blender software for their 3d creations.
Tell us about the Blender Italia project. How did it start? What is its mission?
Blender Italia was born after the transition of Blender from commercial software to open-source software in 2002.
In 2014, after several changes of responsibility, Alessandro Passariello becomes the director of Blender Italia. Thanks to the contribution of passionate users and community lovers, he manages to reorganize the website platform and the various connected social channels with many innovative ideas.
In 2017, after the consolidation of the Community, the Blender Italia Association was founded, and many new projects and activities were born, such as national conferences (BCON Italia), training courses, and a magazine.
The association also offers the "Creo with Blender" award, a cash prize assigned to those who make animated videos with Blender; it also takes care of making a contribution to the fund for Blender programmers and organizes meetings in schools.
There are also many other activities on the website, such as monthly contests, news, publication of the various activities, and much more.
Today, between social platforms and websites, Blender Italia has tens of thousands of users and hundreds of associates of the Blender Italia Association. They are committed to acquiring skills and sharing graphic and educational content about the software, in particular through the innovative "social" forum on the website.
What do you think are the biggest strengths of Blender nowadays, compared to the other 3D software?
Blender has many strengths. It's open-source software that allows everyone to access the code and be able to manage it according to their needs, for example in the scientific or academic field.
It is a very powerful software that allows you to create content with the same quality as commercial software. Since it is open-source, you can freely distribute it without running into legal problems, and it weighs very little (less than 600Mb, compared to the other software that weighs many gigabytes). It features innovative technologies that have raised interest on an international level.
Another strong point of Blender is undoubtedly the worldwide community that supports the Blender Foundation and therefore the software. Blender is used in any field, from artistic to technical, from special effects to 3d printing, from games to physical simulation. It can be used with different operating systems such as Microsoft Windows, macOS, and GNU / Linux and is continuously maintained, updated, and innovated with new features. Another strength is the many addons (extensions) that can be easily found on the internet and allow you to speed up many processes.


Thanks to your big community you have the opportunity to observe the Italian 3D industry. What are the 3D fields in which Blender is most in use, according to your experience?
Since the release of Blender 2.8, which had a huge improvement in the interface and introduced new rendering engines, Blender has seen significant growth in every field.
From our experience, there has been an increase in the field of architecture and interior design (even though it was already widely used in these fields). We have also seen increasing use of Blender in dental technology, archaeological reconstruction, scanning, and management of 3d models, in 3d printing.
The video games industry is always a leading sector and Blender is used a lot to create environments, characters, and objects. Blender is also more and more used to create 3d objects to be sold in marketplaces (A sector that generates millions of euros in turnover).
Blender is supported by a development fund and hundreds of thousands of euros come from names such as Epic, Unity, AMD, Intel, Nvidia, AWS, UBISOFT, Adobe, Microsoft, and Google, just to name a few.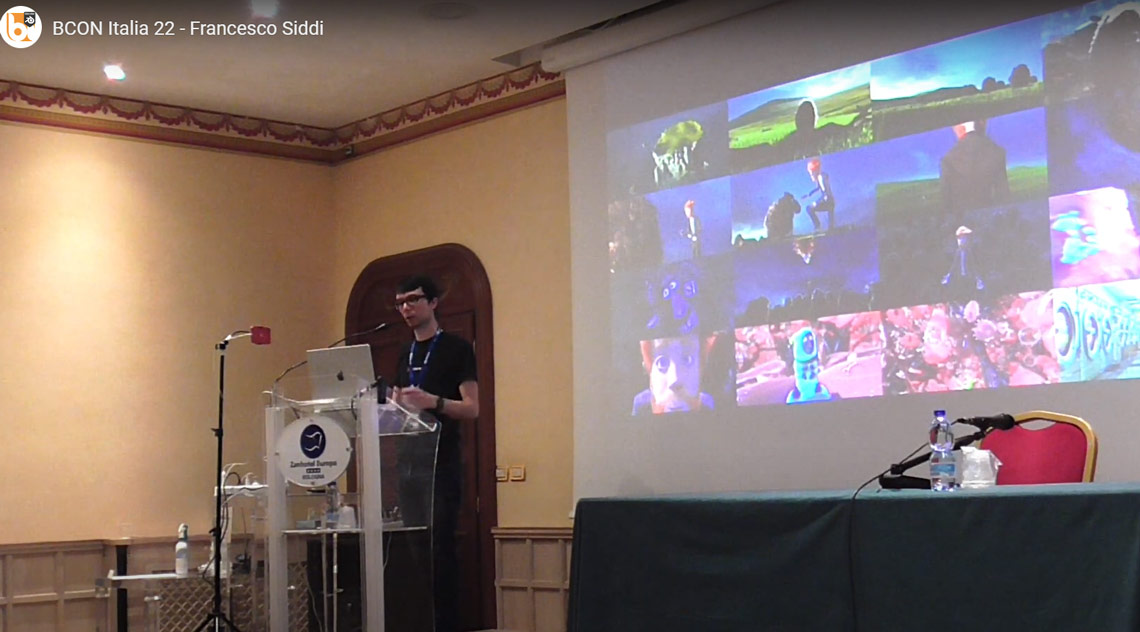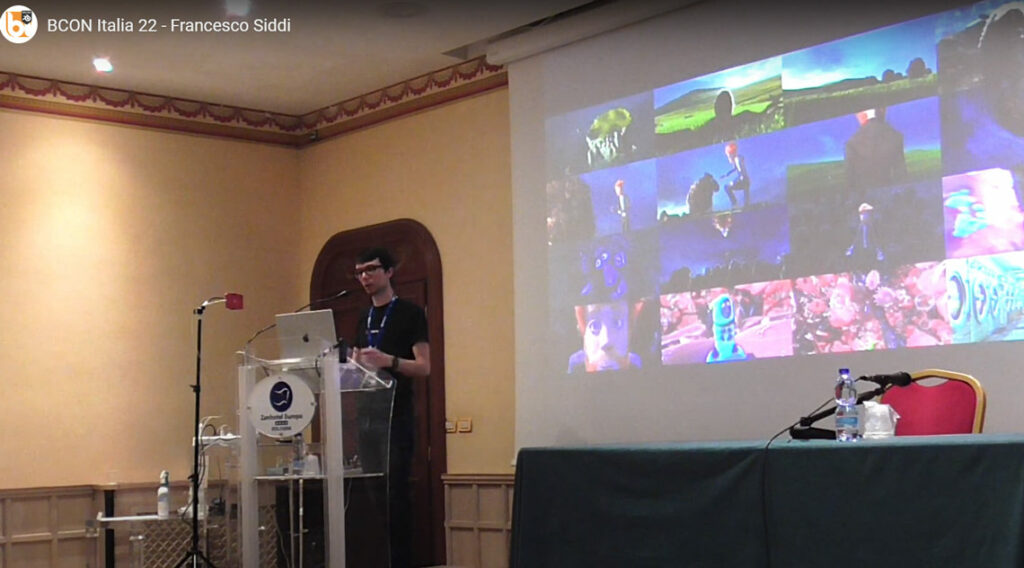 Blender Italia offers various training courses in Blender. Why did you decide to also provide training?
Blender Italia has always been involved in the creation of educational content. Today we can say that we have expanded our offer, but the principles that characterize the community have always been: self-training, sharing, and serenity. They are also the principles present in the regulation of the Blender Italia Community.
The 3D EDU project of Blender Italia was created to promote the dissemination of 3D graphics and Blender open-source software at universities, academies, schools, and training institutes, both public and private.
With the foundation of the association, we immediately thought about how to help the users engaged in training, creating an accreditation system and giving them tools that they can use for training purposes.
What are the social or web channels with which you can reach the Blender users?
With the advent of social media, in addition to the official website of Blender Italia (www.blender.it), we have created a Facebook page and a Facebook group; we are also on Telegram, Discord, Twitter, Linkedin, Instagram, and Pinterest, in order to allow all users to be able to find us depending on which platform they prefer to use.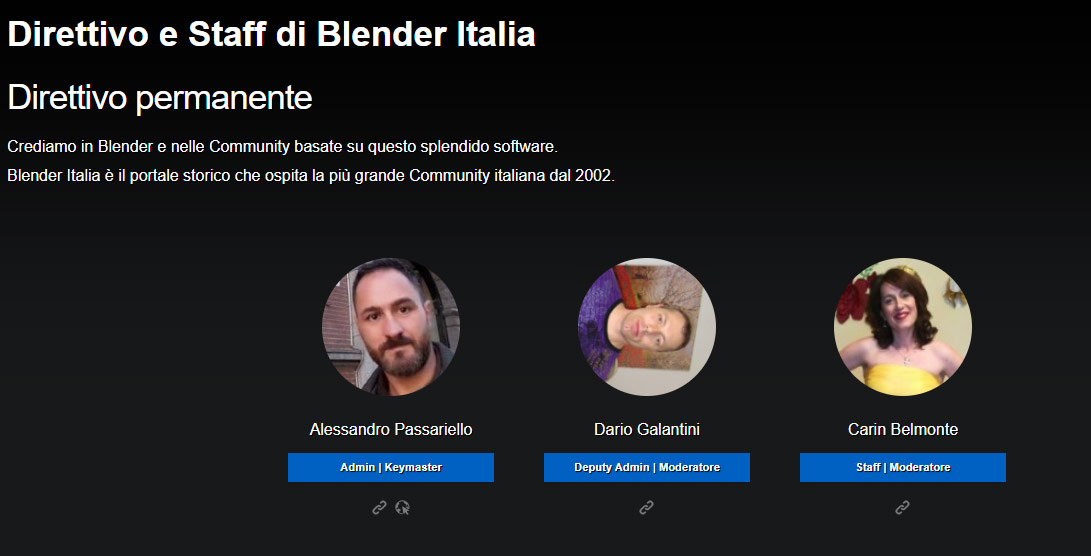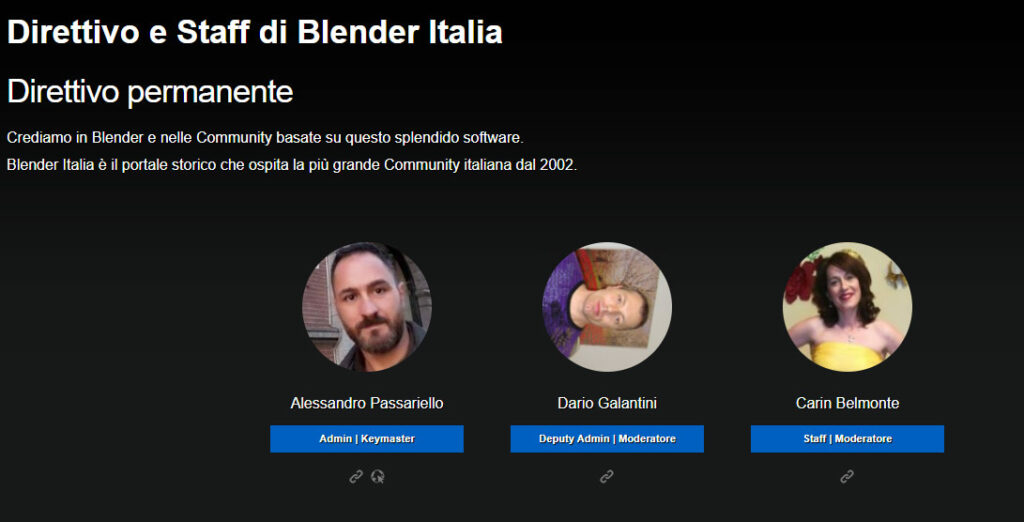 Why would you suggest becoming a partner of Blender Italia?
To become a member of the Blender Italia aps Association, a membership fee of 30 € per year is required. This, added to the donations, makes it possible to finance many projects every year. For example, the training courses, workshops aimed at members, national conferences, the dubbing in Italian of the animated shorts published by the Blender Studio / Foundation, the Blender Magazine Italia, contribute to Dev Fun for software developers, visit schools to teach what three-dimensional modeling is, and award the price "Creo con Blender" (an award given for artistic purposes).
All this consequently guarantees the member of being able to train, participate and be a protagonist in all activities, and share this knowledge with those who want to become an artist, or for their own business.
By becoming associated you also contribute to the maintenance of the administrative structure of the association, as provided for the "third sector" of which the association is part.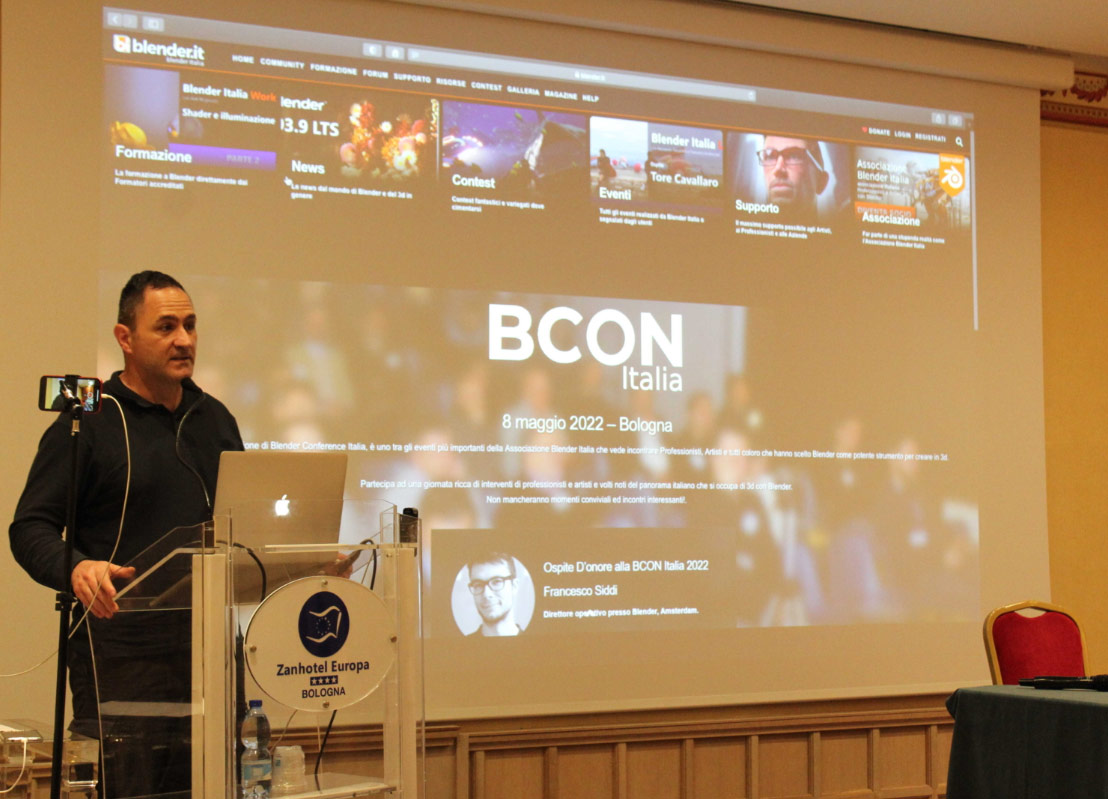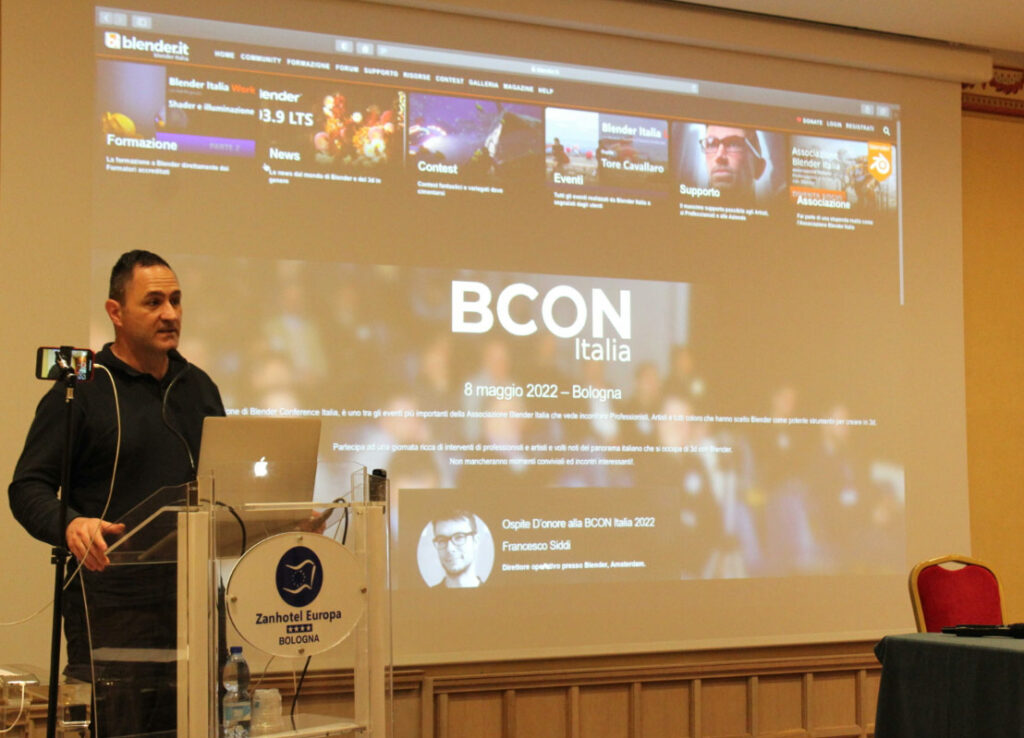 Every year the Blender Italia Association holds the Bcon Italia (Blender Conference Italia). After two years of pandemic in which the conference was only possible online, this year it was in Bologna. What did you talk about in this edition?
This is a year of strong growth for us. We managed to organize the BCON Italia conference, with in-person attendance, in Bologna. The Blender Conference Italia is organized every year by the Blender Italia Association for the entire Italian community. This year at the Blender Conference Italia we had an exceptional guest, Francesco Siddi, Operations Director at Blender (Amsterdam).
During the entire conference the speakers discussed:
Experience of using Blender for the analysis of 3D scans of monuments or archaeological finds – speaker Prof. Giovanni Gallo;
The production of content for the promotion of products and the advantages of having a professional figure that deals with 3d within a company – speaker Enrico Grotto;
Work experience with low cost 3D printing – speaker Davide Re;
3D Short…. from idea to publication – speaker Carlo Rasulo;
Use of Blender for the creation of comics, in the various steps from the study, to
storyboard, to the final drawings, in black and white and in color – speaker Luca Malisan;
Scripting in the Blender pipeline at a professional level – speaker Alek Mugnozzo;
Project for the reconstruction of Piranesian views – speaker Cristian Boiardi;
Mercedes-AMG Petronas f1 team, still images & animation: work done with The Pixelary for AMD – speaker Pix Di Chito;
Exhibition of various projects dedicated to the mobile world – speaker Alberto Zimino;
"Creo" award assignment.
The conference exceeded all our expectations and has contributed to the realization of a beautiful day with so many users from all over Italy was a great joy for us.
---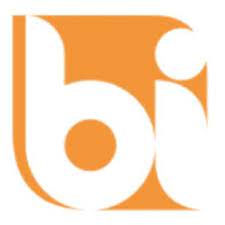 Links to Blender Italia:
Blender Conference Italia 2022:
---
Article realized in collaboration with Doriana Pompili: