The SkyFarm Company is a small team of creators developing original, cross-platform entertainment properties for children between the ages of 3 and 7.
They are currently developing Duncan's Flying Tugboat, a toyetic 3D-animated adventure-comedy television series for preschoolers made using Blender
They launched this project in 2017—just two business partners Dave and Will at first—with zero resources and zero connections to the kids' entertainment industry. In less than three years they've been featured by Apple, won a competition at theVirginia Serious Games Institute, developed ties with some of the most popular brands in the business, and assembled an awesome creative team of their own.
SkyFarm's goal is to create original stories and characters that are uniquely optimized to take advantage of the present-day media landscape. To make films, tv, games, and toys that will empower a kids' imagination by staying consistent from one platform to the next. That means making sure all the characters, vehicles, and landscapes on the show feel as warm and tactile as their toyline, and their toys follow play-patterns that expand on the stories of the show. It means having a distinctive, unifying aesthetic in everything they make. And Blender helps them do that.
Let's discover some more of those young talents. We spoke to Will Bryan, Co-Founder and Chief Creative Officer of The SkyFarm Company:
Why Blender?
Three years ago, Dave and I used Blender for all our early designs. It's the only 3D creation we both know well, and Cycles is the only render engine we trust with our visual style.
As we expanded our team, we folded each creator's preferred software into the mix which was less than ideal because each artist was relatively isolated until an .obj, .fbx, or rendered image was exported and limited opportunities for cross-pollination. But this year we've gone 100% Blender-only with all our new images. Its new features and capabilities from 2.9 make it a no-brainer.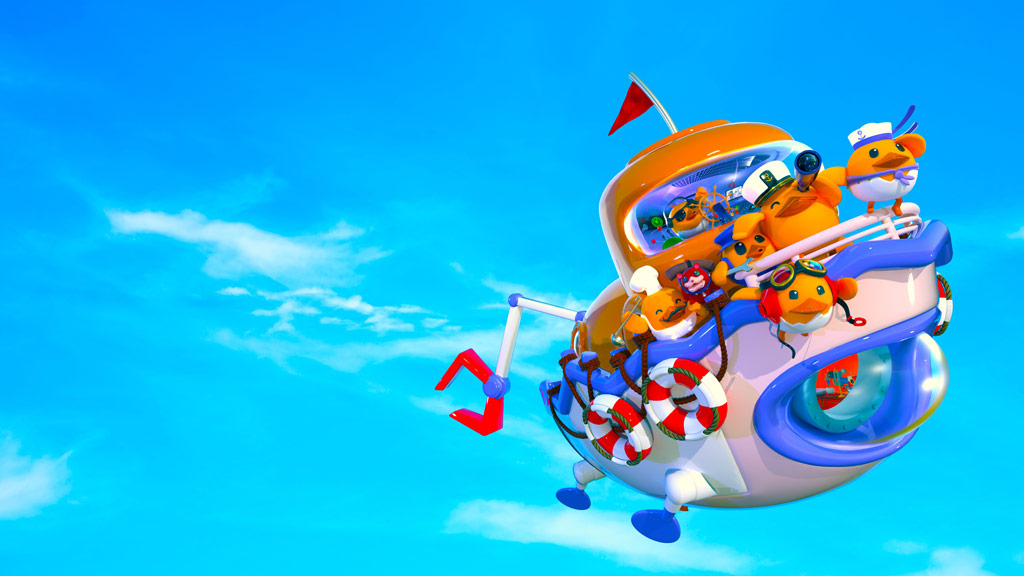 About our process
We use a fluid combination of sculpting and hard-surface modeling for organic characters, costumes, vehicles, and architecture; not one of our primary models was made using a single method. Many of our textures are painstakingly hand-painted by Danielle, and mixed with procedural wood and plastic textures optimized for Cycles.
We then light our scenes—especially exteriors—the way a toy photographer would with points and suns as representative key, fill, and hair lights instead of mimicking realistic lighting. Our goal is to make every frame look like a miniature world, and to make the viewer want to reach into the screen and touch the objects.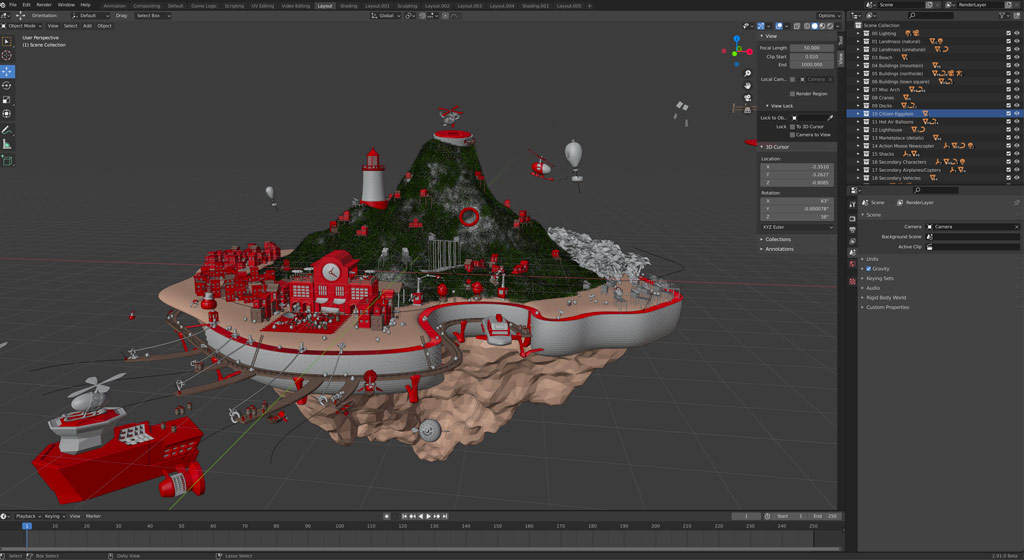 About Duncan's Flying Tugboat:
Duncan's Flying Tugboat will be a pre-k animated series about a crew of duck-like creatures who live on a magical flying tugboat, go on exciting adventures, and support one another when they're far away from home. It's an adventure-comedy about teamwork, makeshift families, and what it means to be a good friend.
At the moment our focus is on the television series, which we'll soon be showing production companies in the United States, Canada, South Korea, and a few other territories. But we also put an equal amount of care into our app—which will soon be released—and our toy concepts.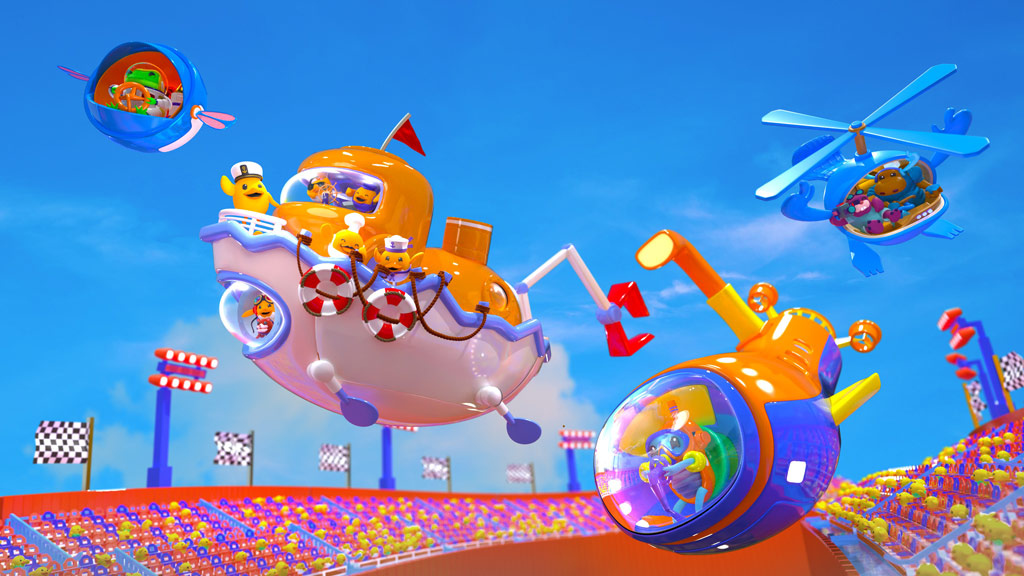 How did you select the team?
When we won a grant from VSGI, we had access to a lot of talent.
The first two people we hired were Danielle Wallace (our Lead Environment Artist) and Josh Emswiller (Lead Animator), both of whom were chosen because of their distinctive sensibilities. Both had impressive commercial work in their portfolios, but it was the work they did in their spare time—Danielle's gorgeous 3D interior sets and Josh's robotic characters—that grabbed us.
Another member of our core team, who is Co-Creator and will serve as Head Writer of our series, will be announced in an upcoming press release. This individual has written for many of the biggest children's television shows on the planet, from Paw Patrol to Top Wing, and we're super lucky to have him
What skills do you look for?
Because of the nature of our workflow and collaborations with other parties, we require proficiency across software platforms—from Max to Blender and Unity—but technical skills is only our baseline. Our company is building an expansive world from scratch, and that means finding artists with unique voices to slot into the mix.
So far we've been very lucky in finding tremendously talented creators whose distinctive contributions complement the total picture. In the future we'll be looking for more Blender artists and animators.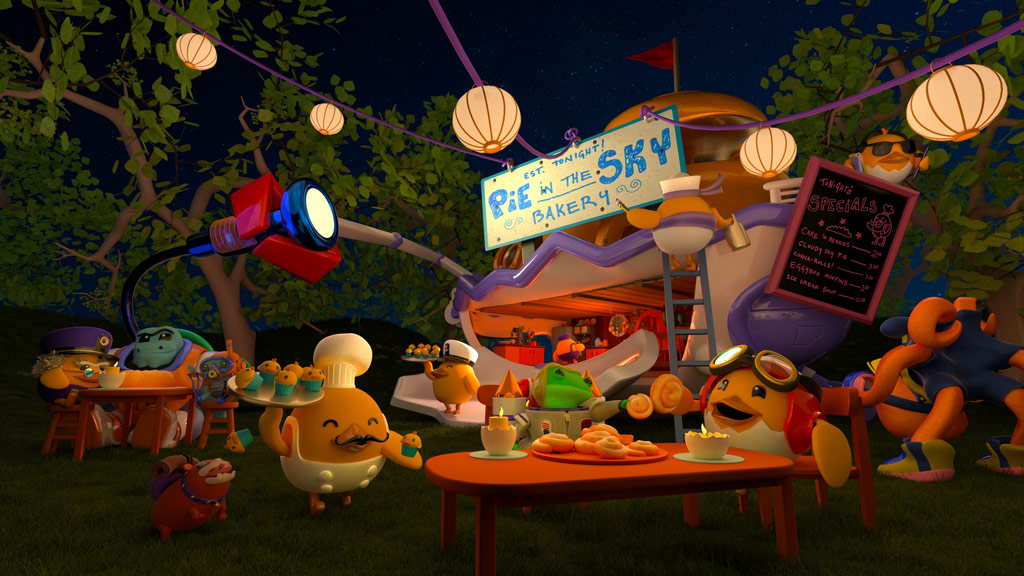 Are you currently hiring?
Not at the moment, but we have plans to expand in the future. If you're interested in working for The SkyFarm Company send us a message and link to your work, especially if Blender is your software of choice.
What companies is this made for?
As of right now we're speaking to a number of production companies. We'll need an institutional partner with more resources to bring Duncan's Flying Tugboat into the next stage, and we expect to strike a deal with one or multiple in the near future.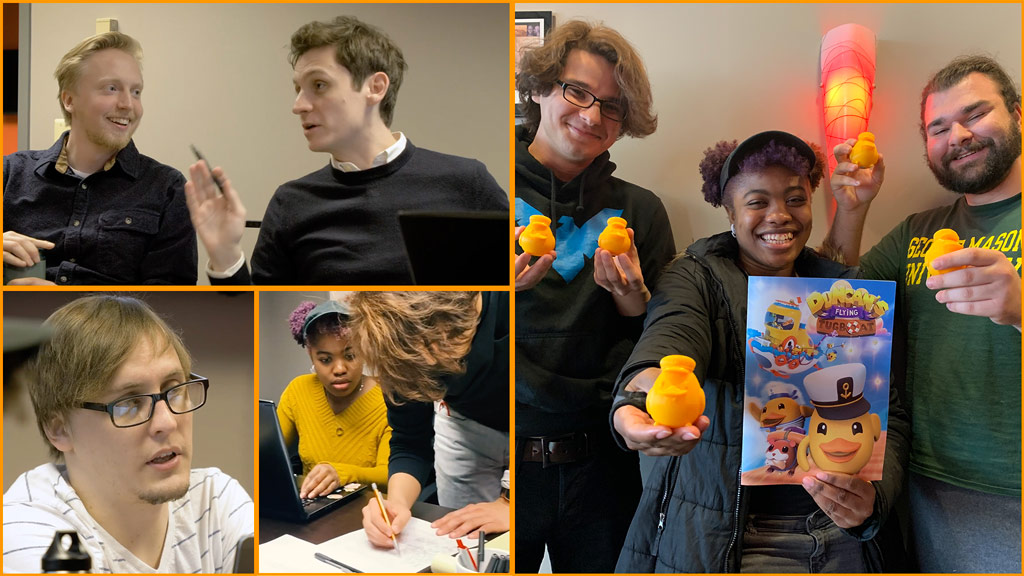 ---
Links to The SkyFarm Company: